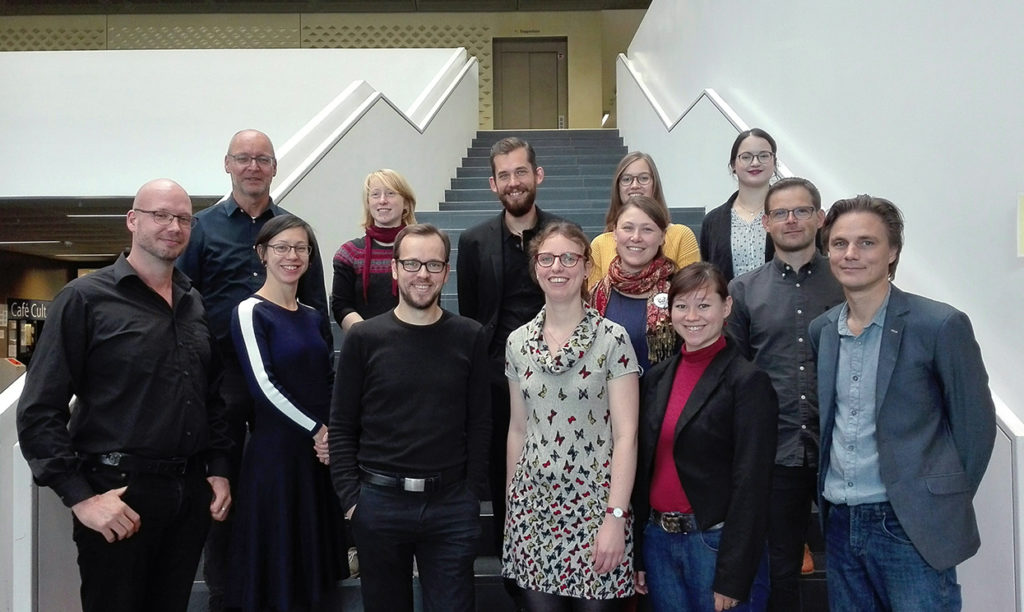 Project Partners
The Map is being created by strongly connected regional working groups. The technical centre is based in Göttingen.
The project is being coordinated at FGHO Lübeck.



Dr. Bart Holterman
Researcher (Lower Saxony), Database Coordinator
contact: here
With a background in medieval history, Bart has always had a fascination for historical actors on the move. Both in his MA thesis about late medieval pilgrims to Jerusalem or in his PhD about Hanseatic trade with the North Atlantic islands, medieval travellers were a central element in his work. Moreover, he has a keen interest in combining digital techniques with historical research. Both of these interests are covered in the pre-modern roads project, where he is responsible for research on Lower Saxony as well as the programming of the digital infrascture.
Dr. Niels Petersen
Project Coordinator Göttingen and General Project
contact: here
Being a scholar raised at the coast but now locked in inland Göttingen might have predestined Niels to combine the best of both worlds and support the idea of a digital map of the "hanseatic" roads. His research interests lie in late medieval infrastructure, coastal societies and port towns and he has worked with historical and recent cartography for a while.
Friederike Kaplan M.Sc.
Digital Cartography
Alexina Ludorff and Vivien Möller
Database Editing

Dr. Angela Ling Huang
Coordinator General Project, Communication between Project Partners
contact: here
Angela Huang is an economic and Hanse historian, interested in trade relations and urban networks. Since 2017, she is the head of the Research Centre of Hanse and Baltic History (FGHO) that is dedicates to promoting research on Hanse history, both of the German Hanse as an association and the economic development of the communes within the Hanse area. Many of those towns were, in fact, connected via the expansive road(s) network that the project makes broadly available in a digital format. Within the project, the FGHO team coordinates existing and potential project partners.
Friederike Holst M.A. and Nathalie Rudolph
Database Editing

Prof. Dr. Stephan Freund
Coordinator Magdeburg for Saxony-Anhalt and Thuringia
contact: here
Maria Carina Dengg, M.A.
Researcher Thuringia and Saxony-Anhalt
Contact: here
Dr. Pierre Fütterer
Scientific Advisor Methodology and Thuringia and Saxony-Anhalt
Contact: here

Kasper H. Andersen Ph. D.
Coordinator Denmark
Contact: here
I earned my PhD degree in History from Aarhus University, where I also was a postdoctoral research fellow. From 2015 to 2018 I was employed at the Danish Centre for Urban History, and since the beginning of 2019 at Moesgaard Museum and Aarhus University as researcher and teacher in in Viking and Medieval history. One of my main research fields is urban history in medieval Denmark, and currently I am currently affiliated with several interdisciplinary research projects, involving partners from both universities and museums in both Denmark and several other European countries. For example, as a central member in several research project on urban history, for instance Research Network of Urban Literacy in Medieval Scandinavia and Routes, roads, travelers and towns in medieval Denmark.
Peter Jensen Maring Ph.D.
Cartography and digital Infrastructure
Contact: here
I am the head of the Unit of Archaeological IT at Aarhus University and Moesgaard Museum, with an academic background in Prehistoric Archaeology and Informatics from Aarhus University. I received my doctorate in Digital Heritage through a joint degree between Aarhus University and University of York. I have been affiliated with several archaeological research projects, involving partners such as the National Museum of Denmark and the Danish Cultural Heritage Agency. On several occasions, I have lead the digital documentation strategies at archaeological excavations, providing the basis for method development and testing ground for various digital approaches to field documentation such as archaeological information systems, geographic information systems, event-based documentation, photogrammetry and 3D reconstructions. My current focus is archaeological data models, web- and app-design, working towards online frameworks of open data, which contribute to scientific collaboration and public dissemination of archaeological data – textual and spatial.
Casper Skaaning Andersen
Simon Harritz
Data Management
Contact: here

Maartje A.B., M.A.
Coordinator The Netherlands
contact: here
website: https://www.hanzesteden.org
Within my dissertation project Mirror of mutual relations: Communication between Hanseatic cities, I study the development of urban networks in the so-called Cologne region around the rivers Rhine, Meuse, Waal and IJssel, and their relation to the Hanse by means of travels of messengers and envoys between ca. 1450 and 1650. More specifically, I study the function of individual towns and groups of towns within the Hanseatic network, for example by studying routes of information through the network. For key regions in my research, historic Guelders and Overijssel, I will provide the information needed to integrate these regions in the overarching project. As coordinator of the Dutch part of the Premodern Roads Project, I aim at connecting research on topics that are of relevance to the pre-modern road system within the borders of present-day The Netherlands to the overarching project. Are you working on medieval/early modern roads, routes, water ways, market places, tolls, inns, bridges, locks or ferries? Or otherwise interested? Do not hesitate to contact me!
Afra de Mars M.A.
Cartography
Contact
Afra de Mars has recently graduated from the Research Master Historical, Literary and Cultural Studies at Radboud University Nijmegen. During her studies, she trained in using GIS for historical research, especially during an internship at the GIStorical Antwerp project of Antwerp University. Her research interests concern medieval and early modern urban history, with a focus on the social and spatial aspects. Within the Viabundus project, she works on the Dutch network of roads and cities
Drs. Leendert van Prooije
Researcher for tolls in the Dutch Rhine delta
Contact
Leendert van Prooije has worked since 37 years for the Nederlands Openluchtmuseum in Arnhem in all kinds of positions, since 2008 as historical researcher / exhibition maker. After partial retirement, he started a project with the aim of making the registers of the Schenkenschans toll on the river Rhine (1630-1810) accessible for research via internet. The Schenkenschans was situated at the bifurcation of the river in Nederrijn and Waal. Based on his experience with this source he concluded that the registers of this toll are the most ideal source to get an idea of trade and transport on the Rhine in 17th and 18th century. Leendert will contribute the project Pre-modern highways and regional road-networks as far as it concerns the tolls on the different branches of the Rhine.
Drs. Willy Piron
Database Editing
Contact
Since 2008, Willy Piron is head of the Centre for Arthistorical Documentation at Radboud University (Nijmegen). As such, he participates, among other projects, in the Kunera project.
Kunera is a database of late medieval badges and ampullae and has a GIS-component; sites where pilgrim's badges were made and were found are projected on a map. In this way medieval routes can be made visible. In addition, route descriptions from late-medieval itineraries are added to complement the data. For Viabundus, he provides daily supervision to the work of Annemarie de Vreese.
Annemarie de Vreese
Database Editing
At the Centre for Arthistorical Documentation at Radboud University, Annemarie de Vreese enters data on settlements in the Netherlands. Her work is made possible by a subsidy from RICH – the Radboud Institute for Culture and History.

Wouter Loeff, M.A.
Editor
more
Peer Verbruggen
Digitization
more

Tapio Salminen PhD
Project Lead Viabundus Finland 1350-1650
Contact
The Team
Website


Göttingen Center for Digital Humanities

Dr. Mauricio N. Vergara
Scientific Fellow 2018, GIS Analytics, Routing and Travel Speed
Contact